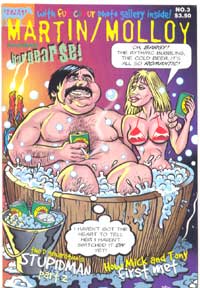 Martin/Molloy was a series published in 1998 by Cowtown Comics with art and story by Dillon Naylor, based on the radio duo at the time of Tony Martin and Mick Molloy.
The comic was published in a 32-page US standard size format and appeared sporadically during the course of its history.
This issue also features fake Mick Molloy ads and a colour photo gallery of Mick Molloy and Tony Martin on the inside front cover.
Ad blocker interference detected!
Wikia is a free-to-use site that makes money from advertising. We have a modified experience for viewers using ad blockers

Wikia is not accessible if you've made further modifications. Remove the custom ad blocker rule(s) and the page will load as expected.